This section covers choosing what to save for backup.
Choosing What to Save
First, access the site backup menu by clicking on the "Create/Restore Backups" icon in the main control panel screen.  As you can see, there are many things to backup.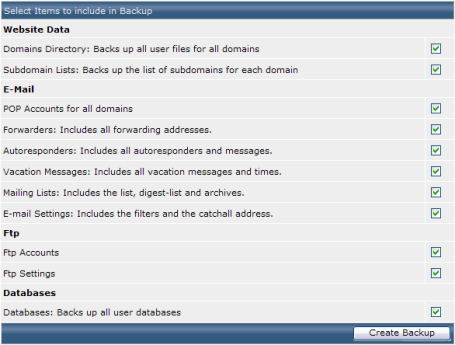 Website Data
Domains Directory
This will backup all the files in your domain directory.  If you have more than one domain, then all your domains will be backed up.  Backed up folders include: logs, private_html, public_ftp, public_html, and stats.  Because subdomains are in your public_html folder, they are backed up also.  Choose this option if you are only concerned about the content of your web site, and not the settings.
Subdomain Lists
This will backup the subdomain names that you have created.  It will not backup the files inside the subdomains.  Use this option if you have many subdomains.  If you fail to backup the subdomain lists, you will have to manually recreate each subdomain in the event of a system failure.
E-mail
POP Accounts:  This will backup the account settings for all of your POP mail addresses.
Forwarders:  This will backup all the forwarders created by you.
Autoresponders:  This will backup all autoresponder accounts and the message content of the autoresponders.
Vacation Messages:  This will backup all vacation message settings and the vacation message itself.
E-mail Settings:  This will backup all filters and the catch-all e-mail address.
FTP
FTP Accounts
This will backup all FTP accounts created by you.  Please note that it does not backup any files in the FTP directories.  If you need to backup the content of the FTP directories, please select "Domains Directory" from the main backup screen.
FTP Settings
This will backup your FTP preferences, such as whether anonymous FTP is enabled and if an anonymous user can upload.
Databases
Back up all User Databases
This will backup all MySQL databases associated with your account.  You should backup your databases often, especially if your site depends on them (for example, forums).